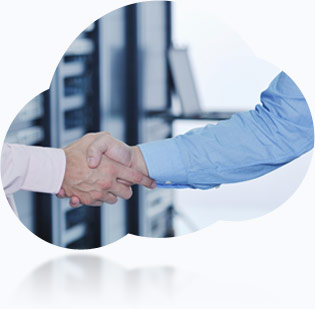 Welcome Networks Inc, a leading Application Service Provider (ASP), allows you to move your entire office server and workstation systems to your own private cloud hosted in our enterprise-class datacenters. Backed by a team of certified system administrators your private cloud is available to you – whenever you want and wherever you are.
All of your users can log on and work at one central location just like in a physical office using the familiar desktop similar to Windows 7. They will be able to use your business specific programs that you have already used in office including Word, Excel or Outlook just the same way used by major corporations in their offices. We will provide the necessary hardware and operating system infrastructure. Also, we will install, configure and run any program for you that you have ever used in your local office. You will be able to see the similar "network drives" that are used in your current local office. Your employees or contractors can have customized access and permissions to network drives based on your needs.
You can scan documents directly into the cloud office and print documents directly to your local printers or to specific network printers in your local office. We will backup your data as well as implement a disaster recovery plan. Your virtual office is accessible anytime, anywhere 24X7X365 from mostly any device that can connect to the internet. This includes computers, tablets, and smartphones. We host over 100 different applications that are being used by businesses and professionals of all types - accountants, lawyers, retail businesses, warehouses and high tech companies.