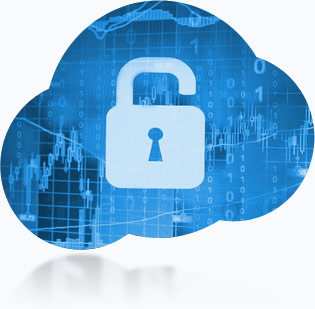 Immaculate Security and Data Protection The most common concern businesses have with cloud is the issue of security. You must have heard about data hackers or intruders looking to steal sensitive personal and financial information. In reality, the vast majority of these instances occur either on public clouds that are open to everyone or within internal networks of the business where a business failed to invest in appropriate security infrastructure or due to limited access to resources with appropriate technical expertise. Small businesses who attempt to manage their own in-house server systems are much more likely to be victims of data theft.
Your private cloud on Welcome Networks infrastructure is different. It is a secure environment created specifically for you and your staff that is totally isolated from public clouds. It runs on dedicated infrastructure just like on-premise environment and provides you the needed security and technical expertise at much lower cost. We give your business access to data protection and security that normally would only be available to the largest corporations in the world. We meet or exceed the highest principles of quality in facilities, managed services practices and customer satisfaction.
Your Private Cloud Office:
Your office environment is completely virtual running from your private cloud. We set up and maintain your servers, users, printers and scanner for each individual employee. Your staff can work from anywhere in the world. For some companies this is super important because some staff is always in the field. This is the only way to be efficient while mobile using the latest technology.
The level of security implemented on cloud platform is actually much higher than a typical business' office setup. Certified technicians are constantly monitoring the performance of your cloud and ensuring that all operating systems, software's, programs and anti-virus remains up-to-date. Virus scans are performed constantly and software upgrades are all tested and installed by professionals.
All of your applications and live data on our system are backed up onsite and offsite using the highest level military grade encryption software. We back up your servers at regular intervals to another state-of-the-art data center thousands miles away. Come what may, your data is safe with us. Daily backups are available for the minimum of 60 days. Long term onsite and offsite backups are available as an added service. There is no need for you to do manual backup of the data but if you would like to make manual backups of your data you are still welcome to do so and easily move them to the local computer for archiving and storage.
Secure SSAE 16 Datacenters: Facility designed for physical and environmental security
Your data is hosted on Enterprise Dell Servers in a robust SSAE 16 rated data centers that is state-of-the-art, are hurricane proof, flood proof and fireproof. They are designed while keeping every conceivable natural and human disaster in mind. Data Center entry is secured, and requires biometric fingerprint scans. The facility offers redundant firewalls, reliable connectivity, superfast connection speeds and virtually no downtime. All of our systems are mirrored to secondary SSAE 16 data centers in a geographically diverse location to provide true disaster recovery.
A large team of certified and highly trained system administrators and technicians monitor your cloud network 24/7 to ensure everything is functional, remains safe, secure and intact. We utilize extensive firewalls and two-factor authentication to protect the network against intrusion attempts.
With 24X7X365 on-site security guards, this special environment is used by major enterprise corporations, financial institutions and government agencies from across the globe. If your business process credit cards, you are required to be compliant with PCI DSS standards for security. We can help you become PCI complaint without any significant investment on your part.
User Security:
We setup user permissions based on your business needs so that each user is only able to see and access information that is appropriate for them. Shared area on your network can be configured so that senior management area is not accessible to any other normal user in the company just like we do it on your on-premise environment.
You have control of your data and can easily lock down the systems so users are not able to take your data away on laptops, USB drives or smart devices. It's not possible for data to get "legs" and walk out the door that usually happens in unmonitored environments.