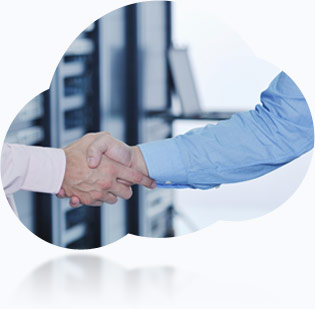 North American Private Cloud for Your Office Welcome Networks Inc has long been trusted by small businesses and accounting firms across North America to provide secured, reliable and dependable IT services. We host QuickBooks, Sage Simply, MS Office and many other 3rd party applications for you as well as provide full virtual office environments in a cloud supported by enterprise grade servers and infrastructure.
As a provider of hosting applications and managing IT services of small and medium size businesses since 1999, Welcome Networks has more experience and knowledge than any other cloud services provider in North America. With clients geographically separated all across Canada and USA with multiple offices in different cities - allowing employees to work remotely makes our cloud service valuable as businesses and professionals alike discover the power, agility and affordability of Private Clouds powered by Welcome Networks.
Security in the Cloud:
Our first-class data centers are extremely safe and our security is rated as a SSAE 16 Type II facility. Network technicians are available around the clock to maintain and protect your data, providing constant anti-virus monitoring and executing the latest software updates behind the scenes. Our cloud is saving businesses a great deal of time & money by allowing them to cut costs from their IT department, as this is all handled by Welcome Networks' experienced staff of certified system administrators.
Our 3 data centers are located across North America – Vancouver, Toronto and Montreal. They are state-of-the-art data centers delivering cloud infrastructure that is unparalleled in quality, accessibility and security. Our prices are affordable and our services will provide you at least 99.9% uptime.